International Transgender Day of Visibility (also called Transgender Day of Visibility) is an annual event occurring on March 31 dedicated to celebrating transgender people and raising awareness of discrimination faced by transgender people worldwide, as well as a celebration of their contributions to society. It is also a day to take action to promote the rights of and fight discrimination against transgender, non-binary, and Two-Spirit people and people of other genders. 
 
Here are some resources you can use to uplift Indigenous Trans folks today and always:
 
1. Respecting pronouns saves lives.
Check out this pronoun guide by the Alberta LGBTQ+ Chamber of Commerce to help create safe and inclusive spaces.
2. Learn more about the term Two-Spirit.
Read about the meaning of Two-Spirit and look at the additional resources— such as presentations and webinars—  listed at the bottom of the page to continue learning.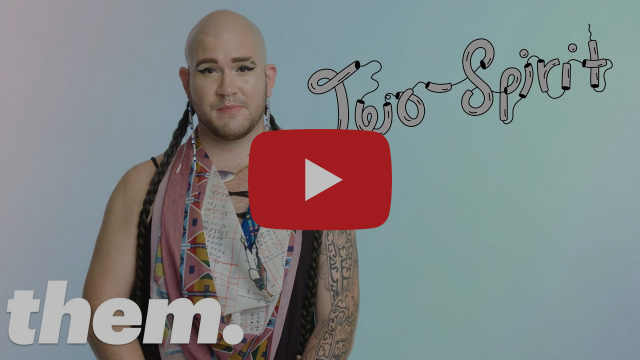 Watch this short video by Geo Neptune (Passamaquoddy) which explains the term Two-Spirit and its important role in Indigenous cultures.
Watch Leitis in Waiting, the story of Joey Mataele and the Tonga leitis, an intrepid group of native transgender women fighting a rising tide of religious fundamentalism and intolerance in their South Pacific Kingdom.
Imagine a world where a little boy can grow up to be the woman of his dreams, and a young girl can rise to become a leader of men. Watch Kumu Hina, the story of Hina Wong- Kalu, who brings to life Hawaii's long-held embrace of mahu — those who embody both male and female spirit and have traditionally been respected as caretakers, healers, and keepers of ancient traditions.
3. Include Two-Spirit Folks in Awareness of MMIWG2S.
Awareness of MMIWG2s, or Missing and Murdered Indigenous Women, Girls, and Two-Spirit people, is a necessary component of stopping violence and supporting those affected by it. As a group that exists in many intersections, including facing transphobia and racism, Two-Spirit folks are often disproportionately affected by violence. To learn more and give support, visit organizations such as Families of Sisters in Spirit and read this organizing toolkit from the Sovereign Bodies Institute.
For immediate help with a case of domestic violence or dating violence, please visit StrongHearts Native Helpline's online Chat Advocacy or helpline (1-844-7NATIVE).

 
4. Resist Anti-LGBTQ2S+ Legislation.
NBC News reports that over 240 anti-trans and anti-gay bills in the United States are being pushed through legislatures this year which are harmful to all Indigenous folks who identify as queer, transgender, Two-Spirit, and/or identify with other gender identities. Search for your area here and see what bills are being presented in the local legislature. Look for ways to contact your representatives, sign petitions, or join protests happening in your community.
 
5. Read!
Check out our Cultural Survival Quarterly magazine dedicated to Indigenizing Love. 
Check out these book lists from 2022, 2020, and 2016 which highlight Two-Spirit authors.